So, Australia, the final word... it is a LOT like America, feels like a cross between the UK and the USA. Normally when we travel, we enjoy going off the beaten track in a culture very different to ours, where English is not readily spoken and the lifestyle is much different to what we are used to. THAT is what we enjoy the most, experiencing other cultures.
So this was a very different trip for us. It was less about a cultural experience and more about seeing natural wonders in the comfort of a culture that feels like home.
Australia's political situation is very similar to the USA.
Most people believe the government is corrupt and the people are split down the middle between left and right. We did not see any poverty at all probably due to the very high minimum wage. A big social issue right now is there is a fairly substantial amount of people on the dole (social welfare) that don't want to work as they get by comfortably on the money they receive from the government. Despite having national healthcare "free" (it's not really free as Aussies pay a lot of tax) most Australians we met still paid for private healthcare insurance because the public systems has long waiting times and sub standard care.
Australians are very in touch with US politics and news reports on local TV covered about as much of the USA as they did of their own country. Even though very few hotels had CNN we had no problem being in touch with what was happening in the USA, Australian cover was substantial on both national networks and cable networks. Australians are very divided about US politics as well with many people we met either hating or loving Trump, split down the middle just like USA.
There is a huge divide between the European descent Australians and the indigenous people with no solution in sight. Their cultures are so far apart. Racism was quite noticeable. Despite receiving substantial benefits from the Government, we still saw a fair amount of homeless people, mostly Aborigines, but some whites too.
Cost of living is interesting. Groceries, clothing, appliances, furniture and cars are pretty inexpensive (cheaper than USA) while housing is VERY expensive. In most cities small condos start at about $400,000 and finding houses less than $1 million is not common. It was announced on TV that if you reach the age of 44 and have not purchased a home, you never will. Mortgages are spread over 40 years to make it more affordable.
Eating out in restaurants appears on the surface to be expensive but when you factor in that sales tax is included and there is no tip required, it balances out closer to US prices.
Culturally Australians are extremely honest, with many instances of the honor system, even some entrances to National Parks required you to put the money in a box.
The single difference that stuck out to me, is the sheer vastness of Australia in comparison to the population. The distances between cities is mind blowing. The amount of NOTHINGNESS in Australia is vast. Australia's population is only a little more than the State of Florida and about half that of California - only 7% of the USA. yet both countries are about the same size geographically.
So a great trip with lots of amazing sights, leaving the final question, where to next?
At this stage it looks like we will be returning to Africa next year.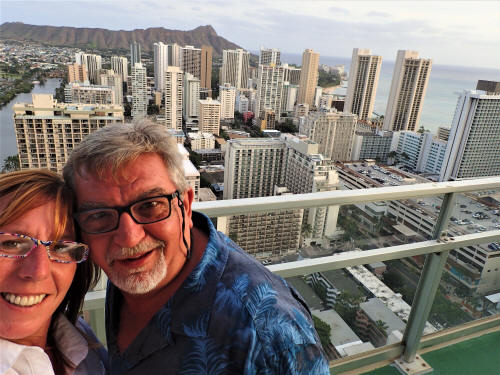 Until next time, happy travels!